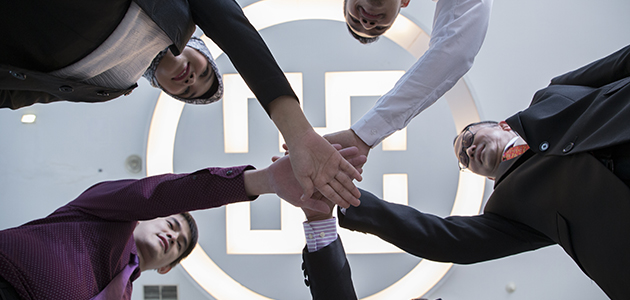 The decision to shape your future is in your hands. Dare to grow and stretch yourself to achieve your dream. Sometimes we think that our dream is unreachable. In fact, we often times fail to know our strength to reach the future. Here in ICBC Indonesia, we do believe your strength is the key to reach the future. We are welcoming people who have the passion and dreams to challenge themselves to grow with us, as a rapidly developing bank in Indonesia.
As an eastern originated bank, we offer an equal chance for being the best global talent through empowerment and challenge to maximize potential. In our bank, we learn to respect diversity, adapt to rapid changes and multicultural challenges. Find the delight of east-meet-west ambience in our workplace.
As part of ICBC Ltd., the largest bank in the world, we are committed in providing development program to enhance individual competency as well as unique inner strength through various training and workplace learning initiatives. There's room for career enhancement for those who are open to new challenges and dare to stretch their strength to reach the dreams. This is truly a genuine intention to develop competitive value of our profession as banker.
We reward superior performance, but equally important is how to achieve the results in an appropriate way. To remain competitive with industry peers, we regularly conduct adjustment for compensation and benefit scheme. In addition, we believe every employee has other important activities other than work. We provide activities to balance and manage work stress.
We welcome those who interested in opportunities and challenges and have a strong passion to move forward, ICBC Indonesia is the place for your to grow.